Just before Christmas, I paid a visit to the new Adidas flagship store on Oxford Street, London. This was to investigate how the brand is evolving their physical retail experience and how sustainability and product innovation, both key priorities for their brand, are being showcased in-store.
The stats for the new store are impressive: four floors, over 269 000 square feet of floor space, over 100 digital touchpoints and 100% powered by green energy1.
As I walked into the store, what instantly struck me is that this wasn't going to be a standard store visit. At the entrance of the store they showcased their 4D range of trainers – custom, limited edition trainers which are 3D printed in Adidas "speed factories" which use automation to enable a roughly two-week product turnaround time.
But of greater interest to me, was a large dedicated area to my right showcasing their sustainability initiatives. A focus on sustainability has become increasingly important for consumer companies as customers prioritise those brands that are seeking to improve their environmental and social impact.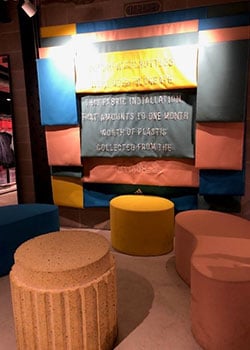 Plastic bottles used to make this fabric installation amounts to one month's worth of plastic collected from the Thames.
Source: Pauline Grange, December 2019.
Adidas's key purpose is to design, build and sell the best and most innovative sports products in the world but increasingly they are seeking to do so in a more sustainable way, from best in class supply chain management to innovating towards becoming more "circular". For consumer companies like Adidas, this means shifting from little to no consideration for what happens to their products at their end of life to enabling customers to recyle their products and using this recycled material rather than new raw materials in subsequent production.
This is also the first Adidas store to have an inhouse "sustainability expert" – a young man called Basil who kindly gave me a store tour. His passion for and knowledge of sustainability in retail was clear and he excitedly disccussed Adidas's key environmental initiatives, in particular their collaboration with Parley to use ocean plastic waste collected from coastal areas in their "adidas x Parley" shoes and clothing range. This partnership has prevented over 3,000 tons of plastic from reaching the oceans, creating shoes made with at least 75% plastic waste and with recycled polyester which uses fewer chemicals.
In 2019 Adidas have made around 11 million shoes from recycled ocean waste (double the 2018 total) and are committed to eliminating virgin plastic in their products by 2024, a goal which is proudly displayed in store. Adidas also uses 100% "sustainable cotton" in their products, which means cotton that is sourced according to the standards of the Better Cotton initiative (BCI) or is organic.
But what impressed me the most is the work Adidas is doing to enable a full shift from "linear" to "circular" production. There are QR codes in store which direct you to download the Adidas app where, once you've logged in, all your Adidas purchases are listed and given a resale value. When returned to the store, Adidas will pay you the amount in vouchers and then resell, repair or reuse the materials to prevent those items ending up in landfill.
In-store, Adidas also proudly display their latest innovation in sustainable footwear – FUTURECRAFT.LOOP, a 100% recyclable performance running shoe which can be broken down and remade by Adidas into a new pair of shoes. The aim is release this shoe to market by 2021.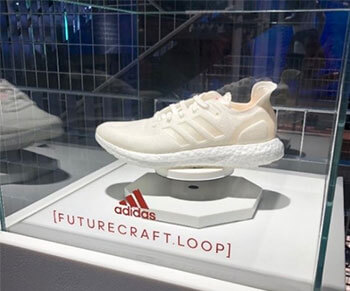 Source: Pauline Grange, December 2019.
However, Adidas's focus on sustainability is evident throughout the store not just in this dedicated display. From customer benches and clothing hangers which are fully recylable and made from recycled waste to water stations which customers can use to refill water bottles, they have done a great job of fully integrating sustainability.
Of course, being a more sustainable brand is not just about the environment; social purpose is also key. Adidas promotes both diversity and inclusion from the products it designs, for example a mastectomy bra with specialist support, to its merchandise displays which in this store included plus-size mannequins.
As consumers increasingly shift online, integrating digital is key to enhancing the in-store store experience and Adidas has done a great job of doing so at this flagship store. For example, there are QR codes on display throughout the store so consumers can engage digitally with the brand whilst using RFID tagging technology in clothes and shoes, customers can interact digitally with screens in changing rooms.
Customisation is another key trend within retail and Adidas has an impressive MakerLab customisation station in store where assistants help shoppers customise their purchases. I customised an Adidas tracksuit for my daughter with her initials using letter badges which made for a great Christmas gift.
In summary, Adidas's new flagship store is an example of how bricks and mortar retail are evolving in today's market. Physical stores are crucial to consumer companies as they are a key way to showcase their brands and for customers to experience and explore their products. However, to be successful these stores need to offer shoppers a superior in-store experience integrating key trends like digital, sustainability and customisation. Adidas is an example in this regard with this new store and if you're next on Oxford street, make sure you pop in for a visit to experience it for yourself.