It is not often that Europe leads the US on product adoption, but it is clearly miles ahead when it comes to the adoption of electric vehicles (EVs). Much like the adoption cycle of mobile phones and other technologies in recent decades, EV adoption is being led by the Scandinavians. While Norway is exceptional, will the rest of the world be where Sweden is in five years (Figure 1)?
Figure 1: Europe races ahead in electric mobility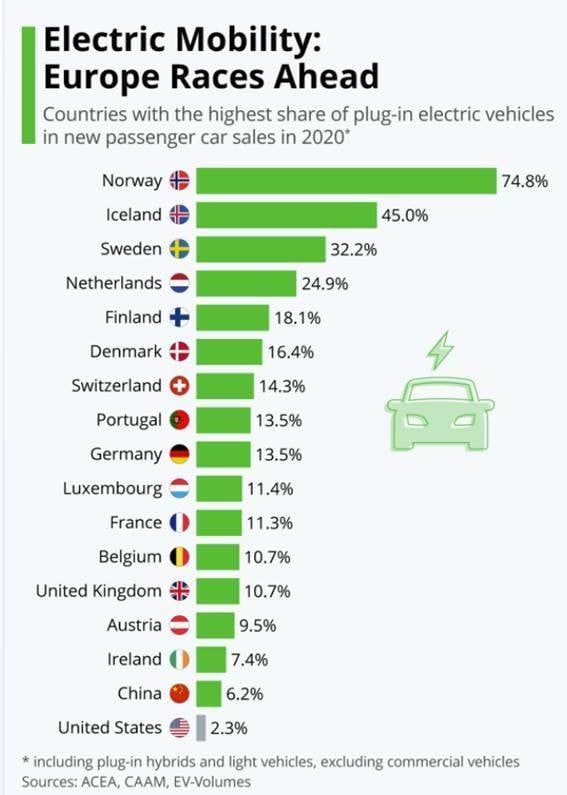 Almost one in every six cars on the road in Norway is an EV, the infrastructure is established and the S-curve of adoption is rising sharply. In Norway, EV's are particularly clean as virtually all of the country's electricity is generated by hydroelectric facilities. Where would you have your investments? What is the terminal value of an internal combustion engine manufacturer?
EV's are a critical element as the world strives for net zero. The UK published its statistics on 2020 emissions recently (Figure 2). While it saw a 9% drop in greenhouse gases due to the economic consequences of the coronavirus pandemic, GHG emissions have in fact almost halved since 1990. So, are we getting there?
Figure 2: 2020 UK provisional greenhouse gas emissions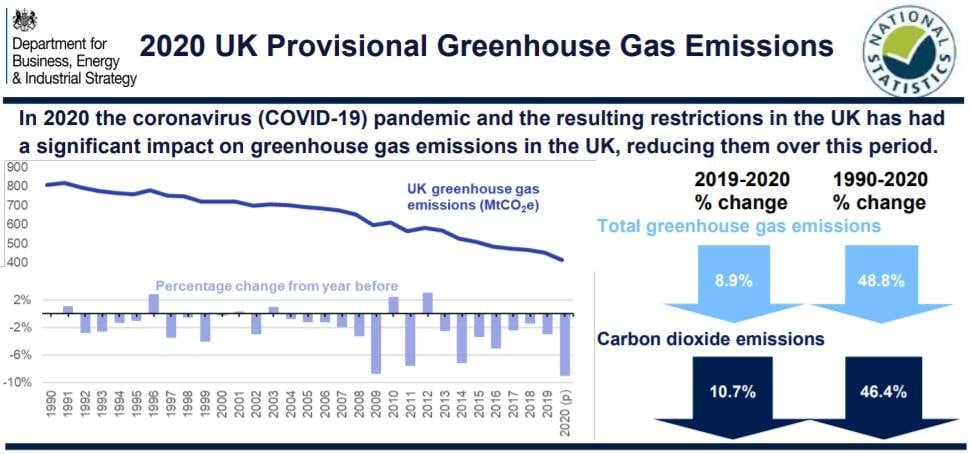 Source: Department for Business, Energy & Industrial Strategy, April 2020
The big shift in the UK's emission profile since 1990 has been the near elimination of coal from electricity generation. EV's will increasingly help solve transportation emissions. The recent announcement of President Biden's infrastructure bill has underlined the increasingly green policy agenda around the world.
Understanding these trends is critical in today's investment world – so we say a big thank you to our responsible investment team. While the debate on European Sustainable Finance Disclosure Regulation (SFDR) rumbles on, it seems as though the economic adjustment is accelerating – capitalism has got the message, there is money to be made. Decarbonisation is an investable trend.