For electronics and semiconductors, one of the impacts of the coronavirus in China has been the revelation that we are too reliant on Chinese supply chains. Given that it's been impossible to source a Nintendo Switch for my son's birthday this weekend, the supply disruption is increasingly evident. This reliance on Chinese manufacturers has revealed a key weakness within electronics supply chains, and companies are now looking to improve the geographic diversification of their component sourcing and assembly.
But what other positive impact might we see over the longer term?
One key area we think could structurally change is global health and hygiene standards. China was already seeing increased regulation around food production and health and hygiene, but will the coronavirus outbreak accelerate this process?
One company that stands to benefit from this in the long-term is Ecolab. Its technologies and services are used in foodservice, food processing, hospitality, healthcare, industrial and energy markets. (See infographic).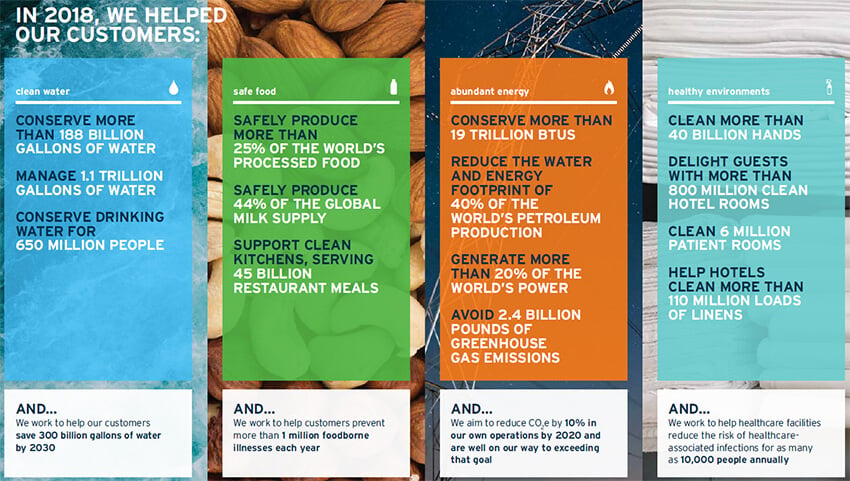 Source: Ecolab 2018 Sustainability Report
For the first time this week I saw Ecolab spray at my gym, and increasingly it's appearing in retailers like John Lewis. Post-SARS, antibacterial hand sanitiser became standard in many buildings, such as the lobbies of commercial properties. Could Ecolab become a feature in more institutions following the coronavirus outbreak? The company supplies products and services under long-term contracts which, given the high value-add of its solutions for customers, results in high switching costs. As such it enjoys high and stable returns with more than 90% of sales recurring in nature.
China has already been a source of strong growth for Ecolab due to increased regulation around health and hygiene standards. The country is also seeing changes in food production, which require greater food safety standards due to the risk of infecting a greater number of people at the same time when producing at scale. Might coronavirus further highlight the urgency of improving food safety standards in the country? In China, Ecolab is viewed as a food safety, antimicrobial expert. It already has experience in co-ordinating with the Chinese government, and thus is a clear beneficiary of these trends.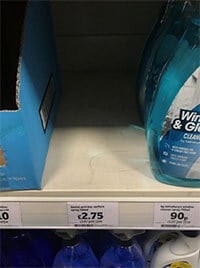 Another of our holdings, Reckitt Benckiser, noted that two of its key brands, Dettol and Lysol, could see a spike in demand over the next quarter as consumers increase their purchases of disinfectant products. Looking at this empty shelf of Dettol products in our local Sainsbury's, this would appear likely.
However, given greater education from national health bodies about how viruses spread, could consumer behaviour actually change? Could more of these products become a permanent feature of households and institutions like schools, particularly in cold and flu season?
The US Environmental Protection Agency recently published its Viral Emerging Pathogen policy, which lists Lysol and Ecolab as two key brands which can be used against coronavirus, which is a great endorsement.
Ultimately, these two companies have a key role to play in keeping populations healthy, and now more than ever the value in this is evident.